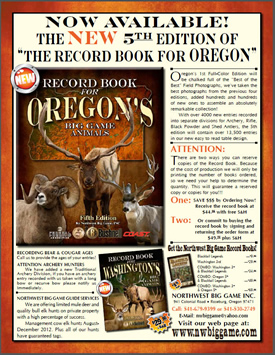 "Record Book for Oregon's Big Game Animals -5th Edition"

Order Online here or with this mailer you received in the mail in May!


The 5th Edition of the Record Book (2012 release) is now available to order, here is the current status of this book:
For several reasons the entry deadline was extended in the fall of 2011 to April 30, 2012 to include the 2011 hunting season's harvest. Which turned the 5th Edition from a (2011 release) into a (2012 release).
Northwest Big Game Inc. will complete the final stages of the layout, editing and design process next week. The electronic formatting and PDF formatting will begin the first week of June. Again we have selected Lesa Hall with Trophy Hunter Magazine to manage the project. This is a large project with nearly a thousand photographs and over 14,000 entries involved. Once this process is completed the files will be sent to the printer. Because of the cost of production we will only be printing the number of books ordered. So please order and reserve yours now! Please expect 7-9 weeks for the printing and delivery time. We are anticipating a late summer -early fall delivery. We are ahead of schedule for a 2012 edition but realize we a behind schedule for the 2011 release. Thank you for your patience, you will not be disappointed with the results.
Sincerely, David M. Morris